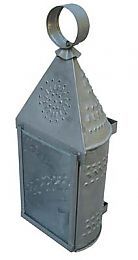 Ship Lantern
Ship Lanterns. Large and small sizes. Pierced tin candle lanterns with glass.  They are perfect for pre-1840 historical reenactors, for camping, and for your home and patio decor. Large - holding two candles: 19 inches x 6.25 inches. Small - holding one candle: 14 inches x5 inches. Antique tin finish.
Additional Information

Ship lanterns.  These lanterns are of the similar design to the Paul Revere lanterns.  Pierced tin on three sides with glass on the front.  Built larger for use on ships. 
WARNING: When using any lantern, do NOT leave unattended inside tent.