We are now in our new location.  Our home is a bit smaller but we still intend to deliver big on the items you come to depend on us for.  Let's gather safely and enjoy our sister and brotherhood at Rendezvous and historic events.
Owner Gene Nagel became a muzzleloader gunsmith specializing in pre-1840s muzzleloader rifles, gun parts, and specialty tools in the mid 70's. Now, Cooperstown Trading Post offers muzzleloader supplies along with a full line of reenactment clothing and accessories for the French & Indian War period, the colonial period, and the pioneer westward migration in our United States and North American history.

Cooperstown Trading Post was born from my gun building hobby.

Prior to establishing Cooperstown Trading Post, it was just a hobby. I would build a gun, on occasion, for myself.  Gun parts and specialty tools, at that time, were hard to come by.  So… a business was born. Muzzleloader accessories and reenactment clothing entered into the picture. I wanted Cooperstown Trading Post to offer everything having to do with muzzleloading and the  pre-1840 historical period.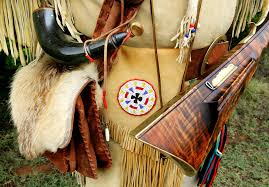 Since 1977, I've been a muzzleloader gunsmith specializing in pre-1840s muzzleloader rifles, gun parts and specialty tools for muzzleloader gunsmiths. I always have large inventory of muzzleloaders, rifle barrels, kits and everything you need to build a gun.  At times, I have a couple of finished, custom muzzleloaders on hand for sale.  LYMAN, UGERTI, PIETTA, PEDERSOLI.  
Cooperstown Trading Post also carries throwing hawks, rendezvous clothing for men and women, and accessories for historical reenactments. We also offer books, beads, belts, moccasins, hats, natural personal products, and many other items – both antiques and reproductions – from the American frontier era.
– Gene Nagel, Cooperstown Trading Post, New address: 355 Winters Road, Butler, PA 16002
45Years in Business  |  
Veteran Owned   |  
Rocky Mountain Elk Foundation Life Member
NRA Life Member  |  
Independent Mountain Men of Pennsylvania Member
Quality Reenactment Clothing & Accessories
If you're a fan of frontier or rendezvous reenactments, Cooperstown Trading Post provides everything you need for an authentic experience. Our mountain man clothing and women's frontier clothing is all hand-made, so your period attire is unique and made to last. You can also choose from a wide range of reenactment supplies and accessories including knives, lanterns and many general store items for your camp.
Muzzleloader & Black Powder Supplies
For muzzleloader enthusiasts, Cooperstown Trading posts carries a large inventory of muzzleloader supplies, accessories, tools, gun parts, and kits. Everything you need to build and maintain your gun!