Read what our customers say about Cooperstown Trading Post:
"Thanks for caring enough to do a good job." 
"Well-made and well-designed. Thanks for making good clothes at a reasonable price." 


Testimonials
Bryan Patrick
Just received my order and I couldn't be more pleased. Everything is even better than hoped for. Thank you.
Wool Felt Hat Blanks
I bought all three colors and they are really well made and fit great. 
They have "aged" quite well and I have received several compliments on them when out in public. 
Should I ever wear these hats out I will buy more from Cooperstown!
Phillip Vincent
February 2019
Gene, Extremely satisfied with everything. The capote is excellent!  Thanks for the prompt service.  Phil
Hey there Gene, just got the items today! They are fantastic, exactly what I needed. I will for sure be a repeat customer, and I am going to tell the members of my club about you.
Gene my capote was delivered today. Love it have wanted one for a long time. Thank you very much. Very pleased with it. Wayne Daniel
Oct 2018
Thanks, everything is very nice. I will recommend you to friends.
Nicholas
June 2018
And oh by the way... I got your order promptly on Friday - thanks for the quick mailing!  The shirts fit perfectly and are exceptional in quality. The wool shirt itself is tremendously warm and will serve me well on cold hikes/ camping trips. Your products have been nothing but exceptional in quality and your service is awesome! It's a sincere pleasure to do business with you! Thanks very much. Nicholas 
August 2017
The trousers are beautiful!
Thanks for caring enough to do a good job. I will be sure to recommend you to anyone in my unit that needs new trousers.
Mark
December 2016

Hello Gene, Thank you so much for the canoe capote !!!!  It arrived today; I have worn it all day. I have wanted one of these since I watched Jeremiah Johnson as a 12 year old (1972). You have made a dream of 44 years come true. The craftsmanship is awesome. Your seamstress deserves a raise. Thank you from the bottom of my heart. Merry Christmas Gene !!!!!
I love these hat blanks! The brown one I ordered a few months back is so great, I use it for Rev war Militia and Confederate slouch hat! This one is getting the TriCorn treatment..like the gray one I bought earlier!
July 2016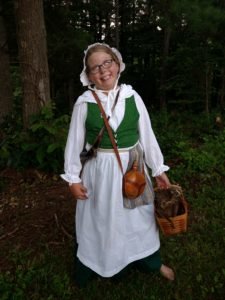 I just wanted to share a picture of my daughter wearing the costume Paula made. She wore it for her Living History Project for 4H. Thank you for helping us put it all together!
April 2016
Dear Gene, I purchased a pair of 18th century trousers from you some years ago. I have enjoyed them thoroughly and found them to be well-made and well-designed. Thanks for making good clothes at a reasonable price. But now I need a new pair…………
Dave Perri (a return customer!)
March 2016
My wonderful clothes are here. From what I see, it's all wonderful. I can't wait to wear. I'll send a picture as soon as I can. Thank you. I'll certainly highly recommend you.
July 2015
Deer Sir,  I just wanted to drop a quick note to thank you for your fantastic service.  I feel you went above and beyond to just send out the merchandise on good faith that I would send a check.  It is hard to find a business that is old school where a deal can be made done by accepting a man's word to deal a deal.  In the future I will conduct business in the modern way.  I have also told others in my group about your company.
May 2015
We received the package and are very pleased with contents. The workmanship is excellent. Thank you.