Pendleton National Park Wool Blankets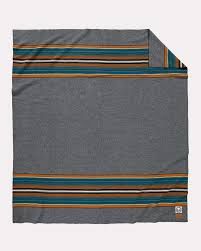 Pendleton National Park Wool Blankets
Pendleton Blanket designs were created in the 1900's to honor America's National Parks. Each blanket features a patch signifying the Park and its authenticity. Full size blankets are 100% virgin wool. 80-inches x 90-inches. They make beautiful Capotes for $275- see options under Men's Clothing.
A – Olympic National Park.  Gray w/multi stripes
B - Acadia National Park.  Black w/multi Stripes
C – Crater Lake National Park. Blue w/multi stripes.

D – Glacier National Park. White w/multi stripes.
E - Yellowstone National Park.  Yellow w/multi stripes.
F -  Badlands National Park Blanket.  Olive w/multi strips
G - Yosemite National Park. Lt Blue w/multi stripes
H - Grand Canyon National Park.  Teal w/multi stripes
I -  Rainier National Park.  Red w/multi stripes.

***ALSO - WE HAVE A SMALL STOCK OF HUDSON BAY 4 POINT AND WHITNEY BLANKETS
$350.00 each.  Made into a Capote for $375
Please inquire on color availability.  Message us through the site or call.