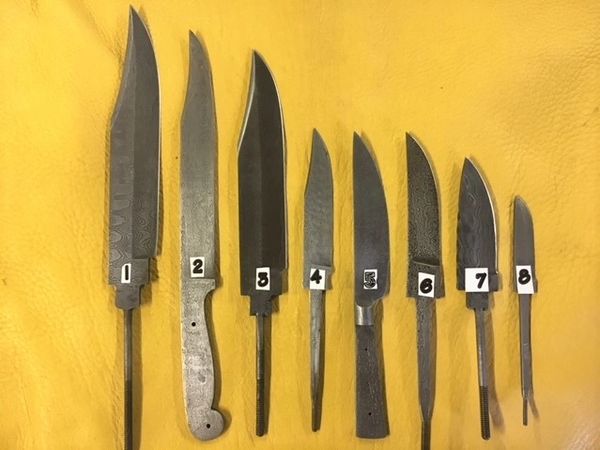 Damascus Steel Blades
Beauty and Strength combined in these fine Damascus steel blades.  Many sizes and shapes to chose from.
Damascus steel was the forged steel comprising the blades of swords smithed in the Near East from ingots of wootz steel[1] imported from India and Sri Lanka. These swords are characterized by distinctive patterns of banding and mottling reminiscent of flowing water. Such blades are reputed to be tough, resistant to shattering, and capable of being honed to a sharp, resilient edge.

1)  8 3/4" BOWIE BLADE  $53.50
2)  8" LONG HUNTER BLADE  $60.75
3)  7" BOWIE BLADE  $48.50
4)  5" CLIP POINT BLADE  $39.00

5)  5" ROACH BELLY BLADE  $38.75
6)  5" CAMP KNIFE BLADE  $30.25
7)  4" dROP POINT BLADE  $26.75
8)  2 3/4" PATCH BLADE  23.75