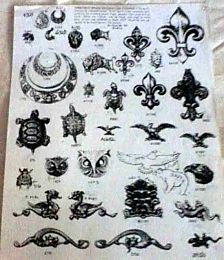 Brass Stampings
Embossed three dimensional brass stampings. Ornamentation for hunting pouch flaps, horn ends, hats, etc. Picture display shows only some of the items. Their are 81 different stampings to chose from, price ranging from $0.16 - $4.00.

Additional Information

Decorations for hunting pouch flaps, horn entd, hats, etc. Back are hollow. May be filled with lead for weight or for holding pins.
For a display sheet of all stampings and a complete price list, send a self addressed, stamped envelope to Cooperstown Trading Post. 515 Steiner Bridge Rd, Valencia, Pa 16059.