Powder Horns and Powder Can Spouts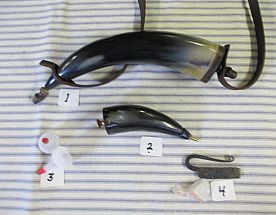 Powder Horns and Powder Can Spouts
Powder Horns are hand-made from natural horn.
1) Powder Horn. 10'' - 12" in length: 
2) Powder horn with 3 grain dispenser valve & acorn filler plug
3) Plastic Powder Can Spouts. Each order is a set of two: 1 fits new plastic GOEX cans, 1 fits old metal GOEX cans.Powder Can Spouts.
4) Flint and Steel Fire Starter - *NOT AVAILABLE AT THIS TIME*
*MINIMUM ONLINE ORDERS OF $25.00