Men's Dropfront Britches and Knee Britches - Large Sizes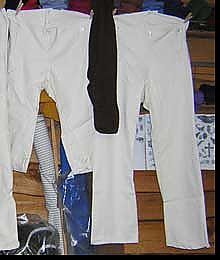 Men's Dropfront Britches and Knee Britches - Large Sizes
Our Men's Drop front Britches.100% Cotton, in larger sizes.  Pre-shrunk with natural buttons.  Natural or (Brown - made to order). Available in both knee- and full-length. Drop front trousers were prevalent on the Northern frontier.  *Pewter buttons available and will be shipped loose- cost $20.00 for set.
*ORDER BRITCHES NEXT SIZE UP FROM JEAN/PANT SIZE, BECAUSE WAIST BAND IS HIGHER*
*If a size larger than 54″ is needed, please contact for a quote.