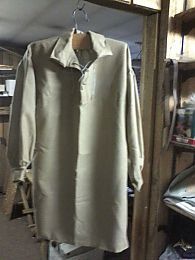 Longhunter Shirt
Cooperstown long hunter shirts, 6" longer than the standard shirt with laced V neck.  Shirts are made from South American Alpaca. The feel is soft & silky, woven into the finest garment weight material.  Very soft & long wearing.
Nicolas C. OCTOBER 2019

I just received my Longhunter shirt today and I couldn't be more satisfied. It is very soft and comfortable, yet also appears very durable- certainly can take a lot of outdoor wear. It fits true to size,has plenty of arm range of motion , and is handsome as a tan color. The alpaca material appears very warm and this garment will be exceptional in fall and winter climates. Another top quality product from Cooperstown Trading Post. And did I mention that the shipping was quick and timely. ALWAYS a pleasure doing business with Cooperstown!