Native American Indian War Club - III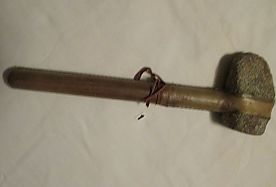 Native American Indian War Club - III
War Club. The stone is a true artifact. Rawhide holds stone in place. Head measures 4 1/2". Overall length 14 1/2".

Additional Information

All three War Clubs featured on this site were hand crafted and designed by the sam artisan. The stones are true artifacts.

Exceptional items, that will add interest and authenticity to someones collection!