Ladies Colonial English Bodice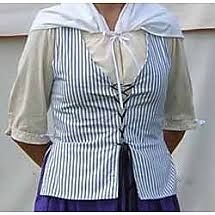 Ladies Colonial English Bodice
The English Bodice is longer, extending just over the hips flattering the female form. Suitable everday wear in the 1700's to early 1800's. All hand sewn by Cooperstown trading Post.
Sizes: English Bodice is reversible:  Small  30″- 32″,  Medium. 34″- 36″,  Large 38″- 40″,   XL 40″- 42″
We are happy to provide many fine patterns and colors in 100% cotton fabrics for our hand sewn clothing. Fabric patterns and colors change often.  To view pattern colors go to 'Fabric and Pattern Options'.  
Items to ship in 2 – 10 days.  Custom orders are in the 7 – 10 day range.