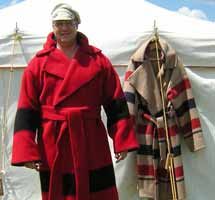 Capote
The original capote coat was made of blanketing rather than a blanket itself. At Cooperstown Trading Post we custom-sew our capotes with top quality, Pendleton National Park commemorative blankets of 100% virgin wool. Colors: 
A – Olympic National Park.  Gray w/multi stripes
B - Acadia National Park.  Black w/multi Stripes
C – Crater Lake National Park. Blue w/multi stripes.

D – Glacier National Park. White w/multi stripes.
E - Yellowstone National Park.  Yellow w/multi stripes.
F -  Badlands National Park Blanket.  Olive w/multi strips
G - Yosemite National Park. Lt Blue w/multi stripes
H - Grand Canyon National Park.  Teal w/multi stripes
I -  Rainier National Park.  Red w/multi stripes.
*See above blankets sold for $249
***ALSO - WE HAVE A SMALL STOCK OF HUDSON BAY 4 POINT AND WHITNEY BLANKETS
$350.00 each.  Made into a Capote for $375
Please inquire on color availability.  Message us through the site or call.
Additional Information
The original capotes were tailor-cut coats rather than "Indian" cut.  Most were closed by a sash and some later designs were double-breasted with buttons.  They were often made of wool blanketing rather than a blanket itself.  All capotes were made of single stripe blankets, and the majority were white 3-point blankets with a single black or blue "head" or bar near each end.  Other colors were sky blue, grey or blue-grey.  Ref: Mountain Mans' Sketch Book by James Austin Hanson and Kathryn J Wilson
The Pendleton National Park blanket designs were created in the 1900's to honor America's National Parks. Each blanket features a patch signifying the Park (Mr. Ranier, Glacier, and Crater Lake National Parks), and the blanket's authenticity.